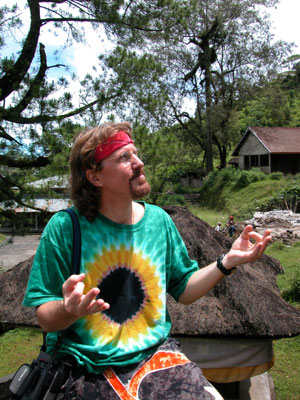 Dave is FREE!
David A. Venanzi
7/19/59-7/11/08
om mani padme hum
read/sign Dave's guestbook

My husband, Dave, was diagnosed with StageIIIb Bone Marrow Cancer, Multiple Myeloma, in 2/01. We were told he would likely survive another year to three years. After an autologous stem cell transplant, he relapsed in 2003 and was treated with a number of chemotherapy regimens. Due to Dave's rapidly escalating illness in 2005, we closed the business in October of 2005 for a few months, as I needed to devote time to my husband's care after an allogeneic stem cell transplant in 11/05. I saw the need to reduce my work load. To keep my staff paid and all of us eating, I sold some of our favorite breeding pairs. This has been a very difficult time for all of us at Aves International, but we have been reorganizing the business a bit. My husband returned home from the hospital in 12/05, after a bone marrow transplant, and continued to valiantly fight Multiple Myeloma until his death on 7/11/08. Please click here if you wish to read about Dave's allogeneic stem cell (bone marrow) transplant for Multiple Myeloma in 11/05.

Dave is FREE! David A. Venanzi 7/19/59 - 7/11/08
My very beloved husband, Dave coded in ICU early in the morning on 7/9/08. Although he was resuscitated, he was in extremely critical condition for two days and Dave left on his own terms 7/11/08. It is a bitter irony for me in that we had just received a new experimental drug that I had extremely high hopes would greatly benefit Dave. Unfortunately, Dave was unable to take this new medication, as he developed pneumonia and sepsis and was unable to fight off the massive infection.
I will have more to say about this experimental drug, cyclopamine, with time. I remain extremely optimistic that this drug or others of a similar ilk will be the answer to the cure/control of many malignancies. Read more about cyclopamine and google it for more info! I remain dedicated to the study of Multiple Myeloma in hopes that I may help someone else. The last few years were very difficult for my husband, his family and friends, my staff, and myself, but we are extremely grateful for the experiences that Dave gifted to us, and we'd do it all over again, to infinity.

youtube tribute to Dave from a friend who knew him for many years
Dave and I so appreciated the loving outpouring of compassion and love from our customers and friends!
The emails of support lifted our spirits in dark times and we were very grateful for them. Thank-you!
Photo Tribute to my beloved husband, Dave.