| | |
| --- | --- |
| | Lost/Found/Stolen Birds/Parrots Page |
Main Page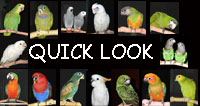 | | |
| --- | --- |
| Please click here if you are confused and just want basic information: | EASY AVES |
911 Parrot Alert- International Database for Lost and Found Birds
This page will have postings for lost and found birds/parrots and also links to online articles pertaining to such matters. Click below to choose the category that you wish to read on this page:

STOLEN BIRDS
LOOK! HAVE YOU CHECKED YOUR BIRD'S WINGS RECENTLY!?
I constantly hear reports of pet birds flying away!
CHECK THOSE WINGS NOW!
It only takes a few seconds with a door being open accidentally and your bird could be gone forever!

PLEASE BE CAREFUL!
cold weather warning!

WARM WEATHER WARNINGS!

Beware of dogs, cats, and
raccoons (for birds housed outdoors)!
11/18/07 Joey is a 2.5 year-old, male, Green Wing Macaw. He weighs 1373g. He has an extensive vocabulary. He has unusual blue wing feathers. They appear normal until you look at the part under the next feather, that section is colored bright pink. He was lost on 11/18/2007, at 4:00 PM in Lancaster at 11th street East and Avenue K-8. He was last seen flying low and to the south. He is not supposed to be able to fly, so there is a good chance he will be on the ground (I pray not) or in lower branches or bushes. I am especially worried because our nighttime low is in the low 40's and is only going to get colder. So if you find him, please call my cell, 661-305-8564, or house, 661-723-1419, and I will arrive immediately to get him. $100 for anyone who tells me where he is and their tip pans out. Dodi
10/15/07
REWARD- LOST PARROT -MAY ANSWER TO "BOGIE". IT IS A BLACK PARROT (ABOUT 20") AND LOOKS MORE LIKE A PIGEON. LOST ON OCTOBER 13TH. BELONGS TO CAROL AND RICHARD MILTON (UNIT B7), IN PACIFIC PALISADES. MAKES CAT LIKE SOUNDS. 310.454.2979/310.779.7074
Reply to: kiwi33158@verizon.net
Date: 2007-07-22, 9:22PM Krickett (Senegal Parrot) escaped from our home in the Yarrow subdivision of College Park/Berwyn Heights area. He is an unsexed senegal parrot, age 10 years. Talks and is friendly. Green on wings and back, yellowish/orange on belly, black beak. Children are devestated/entire family is devestated. REWARD. Escaped today, July 23 at approximately 5 p.m.
12/27/06- Black Headed Caique flew away in Costa Mesa, CA area- band has initials AI and 4 numbers (will verify this). Please notify gworth@avesint.com if found and I will get the bird back to its rightful owner. thanks!
12/12/06- Timneh African Grey flew away in Katy, TX area- band has initials AI and 4 numbers (will verify this). Please notify gworth@avesint.com if found and I will get the bird back to its rightful owner. thanks!
---
ONLINE ARTICLES RE: LOST BIRDS/PARROTS
12/17/07 Stolen parrot returned to its owners
http://www.upi.com/NewsTrack/Quirks/2007/12/17/stolen_parrot_returned_to_its_owners/9759/
12/11/07 Woman Offers Reward For Stolen Birds
http://www.nbc5i.com/news/14817208/detail.html
12/10/07 Police link couple to bird thefts, burglaries
http://www.signonsandiego.com/news/northcounty/20071206-9999-1mc6birds.html
12/1/07 Owners offer $10,000 reward for lost parrot
http://www.reuters.com/article/lifestyleMolt/idUSN2921754820071129
8/2/07 It's a jungle out there: Parrot found in Trexler Park
http://www.mcall.com/news/local/all-macaw,0,791981.story
8/1/07 Wanted: Parrot owner; Temporary caretaker wants owner to identify
http://www.wnewsj.com/main.asp?SectionID=49&SubSectionID=156&ArticleID=157286&TM=52851.55
7/16/07 Valuable parrot escapes from Rye home
http://www.seacoastonline.com/apps/pbcs.dll/article?AID=/20070715/NEWS/707150369/-1/NEWS
7/14/07 Macaw found 80 miles from home
http://www.northjersey.com/page.php?qstr=eXJpcnk3ZjczN2Y3dnFlZUVFeXk1NCZmZ2J
lbDdmN3ZxZWVFRXl5NzE2NzM4OSZ5cmlyeTdmNzE3Zjd2cWVlRUV5eTM=
7/11/07 Man hopes for return of pet birds
http://www.news-press.com/apps/pbcs.dll/article?AID=/20070711/NEWS01/70711082/1075
6/19/07 Stuck Parrot squawks while neighbors gawk
http://www.wbir.com/life/programming/local/liveatfive/story.aspx?storyid=46400&provider=gnews
6/19/07 SWEARS MY PARROT http://www.dailyrecord.co.uk/news/news/tm_headline=swears-my-parrot&method=full&objectid=19317323&siteid=66633-name_page.html
6/19/07 He's no parrot - he's chicken
http://edinburghnews.scotsman.com/index.cfm?id=960232007
6/18/07 Lost parrot back with owner
http://www.tampabays10.com/news/local/article.aspx?storyid=57022
6/11/07 Rare parrot back home
http://www.shropshirestar.co.uk/2007/06/rare-parrot-back-home/
6/10/07 Meet the newest member of our staff
http://www.redlandsdailyfacts.com/news/ci_6106006
6/9/07 Parrot that flew the coop is returned to owners
http://newstribune.com/articles/2007/06/07/community/207com01parrot.txt
5/28/07 Please help! Parrot lost - owner devastated
http://denver.yourhub.com/Centennial/Stories/Pets/Looking-For/Story~314323.aspx
5/22/07 Search for missing bird reaches near and far
http://www.herald-citizen.com/NF/omf.wnm/herald/news_story.html?rkey=0044675+cr=gdn
5/19/07 Man Utd-hating parrot stolen
http://www.news24.com/News24/Sport/Soccer/0,,2-9-840_2115443,00.html
5/16/07 Let out of cage, Mikey's flying on his own
http://thechronicleherald.ca/NovaScotia/835492.html
5/15/07 Southeast's 'Pied Piper' attracts feathered friend
http://www.newstimeslive.com/news/story.php?id=1053219&source=tabbox
5/11/07 Family searches for parrot that flew coop
http://www.trentonian.com/site/news.cfm?newsid=18322251&BRD=1697&PAG=461&dept_id=44551&rfi=6
5/8/07 Dusty the parrot's wild Vegas adventure
http://www.detnews.com/apps/pbcs.dll/article?AID=/20070507/METRO/705070351/1003
5/5/07 Corrie-loving parrot returns home
http://news.bbc.co.uk/2/hi/uk_news/wales/mid_/6623693.stm
5/4/07 Flyaway parrot returns
http://www.eveningstar.co.uk/content/eveningstar/news/story.aspx?brand=ESTOnline&category=News&tBrand=
ESTOnline&tCategory=news&itemid=IPED03%20May%202007%2005%3A38%3A48%3A790
4/26/07 Lost Parrot Found In Las Vegas
http://www.clickondetroit.com/news/13029291/detail.html
4/12/07 Runaway parrot Dixie could starve to death in the wild
http://iccoventry.icnetwork.co.uk/0100news/0100localnews/tm_headline=runaway-parrot-dixie-could-starve-to-death-in-the-wild
&method=full&objectid=18883881&siteid=50003-name_page.html
4/12/07 Siblings reunite parrot with owner
http://www.nwemail.co.uk/news/viewarticle.aspx?id=486724
4/12/07 Parrot could be deceased
http://www.macclesfield-express.co.uk/news/s/226/226303_parrot_could_be_deceased.html
2/22/07 Hey Bert, we've found your lost parrot
http://www.komotv.com/news/6003936.html
2/15/07 Bubba the escapologist comes home to mamma
http://ickent.icnetwork.co.uk/kentnews/tm_headline=bubba-the-escapologist-comes-home-to-mamma&method
=full&objectid=18627859&siteid=74229-name_page.html
2/11/07 Footballers find Lucy the missing parrot
http://www.swindonadvertiser.co.uk/news/swindonnewsheadlines/display.var.1185573.0.footballers_find_lucy_the_missing_parrot.php
1/24/07 Pampered pet parrot flies from comfy nest
http://www.islingtongazette.co.uk/content/islington/gazette/news/story.aspx?brand=ISLGOnline&category=
news&tBrand=northlondon24&tCategory=newsislg&itemid=WeED24%20Jan%202007%2011%3A16%3A17%3A017
1/5/07 Psychic called in to help find pet parrot
http://www.ilfordrecorder.co.uk/content/redbridge/recorder/news/story.aspx?brand=RECOnline&category=newsIlford&tBrand=
northlondon24&tCategory=newsilford&itemid=WeED04%20Jan%202007%2010%3A15%3A00%3A697
1/2/07 Family endure parrot torment
http://www.newhamrecorder.co.uk/content/newham/recorder/news/story.aspx?brand=RECOnline&category=news
NEWHAM&tBrand=northlondon24&tCategory=newsnewham&itemid=WeED02%20Jan%202007%2016%3A11%3A32%3A700
12/23/06 Missing macaw captured; search on for owner in Brookhaven
http://www.zwire.com/site/news.cfm?newsid=17626981&BRD=1675&PAG=461&dept_id=18171&rfi=6
---
STOLEN BIRDS
GILDA HAS BEEN STOLEN
Gilda is a friendly, beautiful Red Fronted Macaw. Many of you who have been to Parrots Naturally know her.Gilda was brazenly grabbed from a perch in the front of our store as customers watched on August 4 at about 1:15 pm.
The thieves are two large male Hispanics who ran out and jumped into a silver-grey VW sedan, (may be a Jetta). The car looked brand new and had paper dealer plates from Finley, Findley or Findlay motors or automotive.
Red Fronteds are a dark, olive green small macaw with a brilliant red front (forehead) and top of the head. She has a distinctive orange patch on her face and orange on her shoulders and under-wings. They are not considered mini-macaws, but are the smallest of the large macaws weighing around 550 gms. Gilda knows her name and will reply Hi Gilda when you call her. She also waves when you wave to her.
We are offering a large reward for her return. If someone approaches you offering to sell a red fronted or any other kind of macaw, please, please say that you are interested and will pay a fair price. Try anything to stall and then, call all of the numbers below. If you are a bird or pet store, please, say that you have a customer that is interested. We will guarantee $1,500 if you can negotiate.
Call me anytime (night or day) if you have a lead. Judy Lantz Shop: 818 708 7277 (days); Home: 818 883 1422 Cell: 818 404 4691 Email: parrotsnaturally@earthlink.net
4/17/08 Burglars Steal 14 Exotic Birds From Man's Home
http://www.thedenverchannel.com/news/15911635/detail.html?taf=den
1/9/08 He's a very stolen parrot
http://parramatta.yourguide.com.au/news/local/general/hes-a-very-stolen-parrot/1158699.html
10/23/07 Charlie the parrot is missing; his cry might be 'HELP!'
http://www.heraldonline.com/109/story/149670.html
10/23/07 Exotic parrots stolen from three pet stores
http://www.canada.com/victoriatimescolonist/news/story.html?id=fe6c3f3a-bbd0-49e8-a892-210bac98d3ba
10/10/07 BIRDS STOLEN!
2 Pair of Toco Toucans and 1 pair of Keel Bill Toucans ( aka Sulphur Breasted) were stolen from a breeding facility in Ocala, Florida between 10:00 - 10:30pm Monday night October 8th. They were stolen from Helen Wilson, Ocala, Florida
This is her description of them: We live in Northern Central Fl., to be exact, Ocala . They were taken from our bird breeding area between 10:00pm and 10:30pm Monday night. The one pair of Toco's has open leg bands and the male to that pair, has a marked up beak from hollowing out the coconut log. This pair will fly to you and are very, very tame. The other pair of Toco's are not friendly and do not like eye to eye contact. The keels are also very friendly. Please contact everybody you know. Thank you, The Wilson's Please let anyone you know about this theft. Together we can find them and get them back! Fred Smith 863-858-6739
9/6/07 Suspected Parrot Thief Convicted in Theft of Bulldogs!
http://www.bigbulldogs.com/conviction.htm
Wanted: One barking parrot
http://www.myfoxtampabay.com/myfox/pages/News/Detail?contentId=4185372&version=3&locale=EN-US&layoutCode=TSTY&pageId=3.2.1
8/16/07 Thief makes off with SoCal pet shop's prized parrot (This bird has been returned!)
http://www.mercurynews.com/news/ci_6640085?nclick_check=1
8/15/07 At least 45 parrots stolen from LI pet store
http://abclocal.go.com/wabc/story?section=local&id=5568127
7/16/07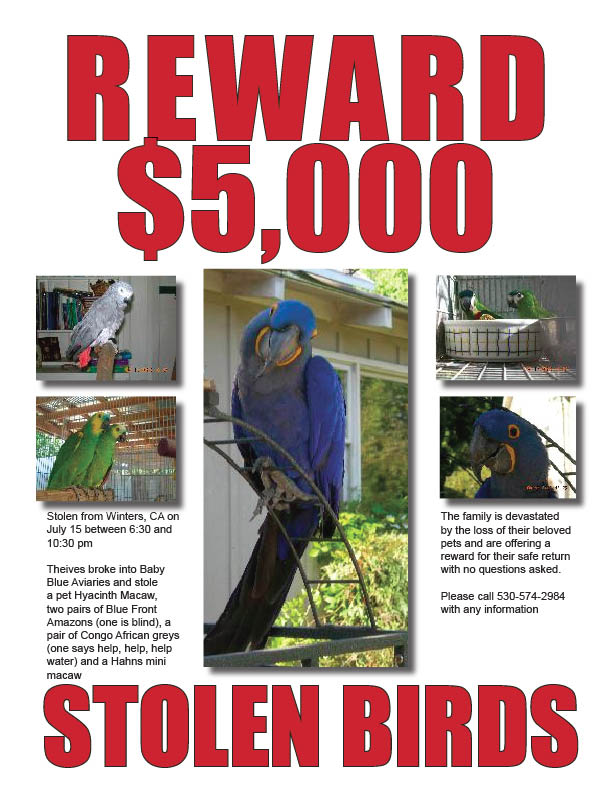 Samantha Hughston of Winters California had the following birds stolen last night between 7 and 10:30 pm PDT
1 Hyacinth macaw microchipped and banded family pet
1 pair of blue front amazons - one blind - says hello
1 pair Congo African Greys - hen says - help, help, help water
1 Hahns macaw

Samantha, as you can guess, is devastated. Her number is 530-574-2984. The thieves left a net and fingerprints were lifted. The Solano county sheriff number is 707-421-7090. The case number is 07-4782 and the deputy's name is Deogracis Gastar, Jr.
6/14/07 Seven pairs of breeding Congo Greys were stolen today from Paul Colo in San Diego. Please advise if you hear of anyone trying to sell them or if anyone contacts you as to how to care for the two day old baby and fertile eggs also stolen. Paul number is (619) 518-5140.
5/31/07 Subject: Stolen macaw and African grey (Fresno area) Stolen - African grey and macaw - Fresno area On Saturday May 26, 2007 at 8:00am, (in Fresno area) thieves used bold cutters to remove the locks, then stole my sister's Congo African Grey and Blue and Gold Macaw parrots from her backyard. This has been a devastating event for my sister Sandi, since she is single and loves them like children. Both birds are attached to each other as their cages have been next to each other for the last 15 years. Sandi is very concerned about their stress levels because they are extremely attached to her and their environment. Because we believe that the thieves may sell them to unsuspecting buyers who won't be able to handle them they may be sold again or be abandoned or become rescue birds. We are asking you to please save this letter so if in the future month when birds that may fit their description come across your path you would please contact us.
Roady - An African Grey has lived with Sandi for over 20 years and has never been sexed. She was full feathered and very healthy. Some of her favorite words "Sandi, or Sandra" She whistles the Andy Griffin Show theme song and other names she calls are "Johnny, Major and Milo " She likes to imitate a rooster, peacock, hammer, telephone, mumble on phone, kitten, dog barking, moos like a cow. Whispers "Shhhh, be quiet! Makes kissing noises, Donald Duck voice and giggles with Major.
Major - A Blue and Gold Macaw is 15 years old and has been raised by Sandi since she was 6 weeks old and was surgery sexed. Major was full feathered and healthy but can only be handled by Sandi. She does have a titanium band on her right foot, not sure if the number is still visible. She did lose a large number of feathers in the struggle when she was stolen. Her favorite phrases, "Milo,get the ball! and screams Milo's name. She screams the word "Mom" HI! HI! HI! "Grace, Out! Out! Out!" "Ouch, stop that!" And screams like a little girl(from theneighborhood). "Good boy, Major!"
Our main concern is the bird's safety and getting them home as soon as possible with limit amount of stress. No questions asked, just want their safe return.
Sandi Lea, Laton, CA 93242 (559) 287-3600, (559) 923-4305; Shella Caroni, Arroyo Grande, CA 93420 (805) 473-0304 shellacar@yahoo.com
5/30/07 Reward offered for return of rare birds
http://news.ninemsn.com.au/article.aspx?id=270257
4/28/07 Missing Exotic Birds
http://www.kbsd6.com/Global/story.asp?S=6436515
4/18/07 Exotic Birds, Supplies Stolen From Pet Store
http://www.clickondetroit.com/news/12408558/detail.html
1/5/07 Stolen baby parrot sought
http://cnews.canoe.ca/CNEWS/Canada/2007/01/05/3176503-sun.html

Main Page of Aves International