| | |
| --- | --- |
| | Lost/Found/Stolen Birds/Parrots Page |
Main Page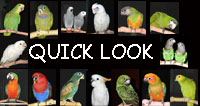 | | |
| --- | --- |
| Please click here if you are confused and just want basic information: | EASY AVES |
911 Parrot Alert- International Database for Lost and Found Birds
This page will have postings for lost and found birds/parrots and also links to online articles pertaining to such matters. Click below to choose the category that you wish to read on this page:

STOLEN BIRDS
LOOK! HAVE YOU CHECKED YOUR BIRD'S WINGS RECENTLY!?
I constantly hear reports of pet birds flying away!
CHECK THOSE WINGS NOW!
It only takes a few seconds with a door being open accidentally and your bird could be gone forever!

PLEASE BE CAREFUL!
cold weather warning!

WARM WEATHER WARNINGS!

Beware of dogs, cats, and
raccoons (for birds housed outdoors)!
11/18/07 Joey is a 2.5 year-old, male, Green Wing Macaw. He weighs 1373g. He has an extensive vocabulary. He has unusual blue wing feathers. They appear normal until you look at the part under the next feather, that section is colored bright pink. He was lost on 11/18/2007, at 4:00 PM in Lancaster at 11th street East and Avenue K-8. He was last seen flying low and to the south. He is not supposed to be able to fly, so there is a good chance he will be on the ground (I pray not) or in lower branches or bushes. I am especially worried because our nighttime low is in the low 40's and is only going to get colder. So if you find him, please call my cell, 661-305-8564, or house, 661-723-1419, and I will arrive immediately to get him. $100 for anyone who tells me where he is and their tip pans out. Dodi
10/15/07
REWARD- LOST PARROT -MAY ANSWER TO "BOGIE". IT IS A BLACK PARROT (ABOUT 20") AND LOOKS MORE LIKE A PIGEON. LOST ON OCTOBER 13TH. BELONGS TO CAROL AND RICHARD MILTON (UNIT B7), IN PACIFIC PALISADES. MAKES CAT LIKE SOUNDS. 310.454.2979/310.779.7074
Reply to: kiwi33158@verizon.net
Date: 2007-07-22, 9:22PM Krickett (Senegal Parrot) escaped from our home in the Yarrow subdivision of College Park/Berwyn Heights area. He is an unsexed senegal parrot, age 10 years. Talks and is friendly. Green on wings and back, yellowish/orange on belly, black beak. Children are devestated/entire family is devestated. REWARD. Escaped today, July 23 at approximately 5 p.m.
12/27/06- Black Headed Caique flew away in